The Center for Research and Security Studies (CRSS) conducted its fourth Pak-Afghan Youth Dialogue under its Afghan Studies Center initiative on Wednesday, September 20, 2017, as part of its ongoing series of monthly dialogues aimed at enhancing people to people contact between the youth of Pakistan and Afghanistan. The theme of the dialogue focused on 'Enhancing Pak-Afghan Trade for Peace & Economic Development: Youth Perspective' which was attended by 30 participants – 19 Afghans and 11 Pakistanis, comprising students enrolled in higher education programs in Islamabad and Peshawar.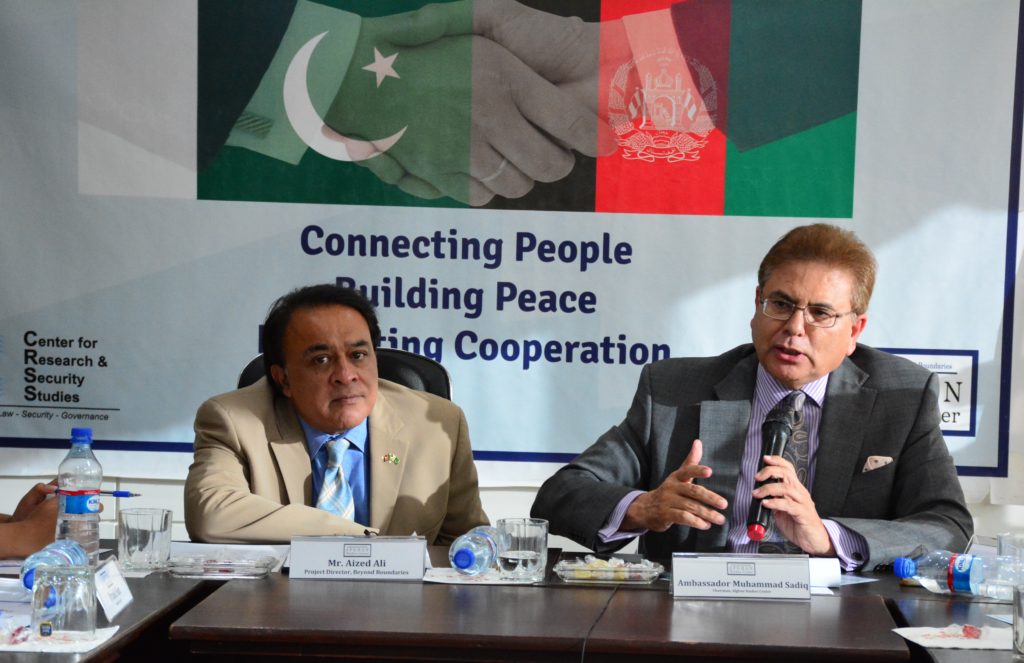 Honorable Ambassador Mohammad Sadiq, and also Chairman Afghan Studies Center, who served as the Ambassador to Afghanistan from 2008 to 2014, was the chief guest, while Mr. Mozammil Shinwari, former Afghan Deputy Minister for Trade and Commerce, from Afghanistan, and Ms. Faiza, Secretary General of Pakistan-Afghanistan Joint Chamber of Commerce and Industry (PAJCCI) from Karachi, gave presentations on Pak-Afghan trade to the participants via Skype calls. Mr. Aized Ali, Project Director at CRSS, moderated the dialogue while Mr. Essa Naqvi from Dunya TV, and Frank Sun, a CRSS researcher from China, were also present.
Ambassador Sadiq in his opening remarks welcomed the young Afghan and Pakistani participants and emphasized that the two countries have been in need of such enterprising young minds who can push for positive change. Speaking on the theme, he stated that trade is indeed a vital aspect of soft power and soft power brings countries closer. Until quite recently, Pakistan was Afghanistan's largest trading partner while Afghanistan was Pakistan's second largest trading partner. It was only in recent months that the two lost that position with each other; however, reclaiming that is not difficult, he reminded. An important part of soft power as well as a binding force between the two peoples is increased investment in each other's country.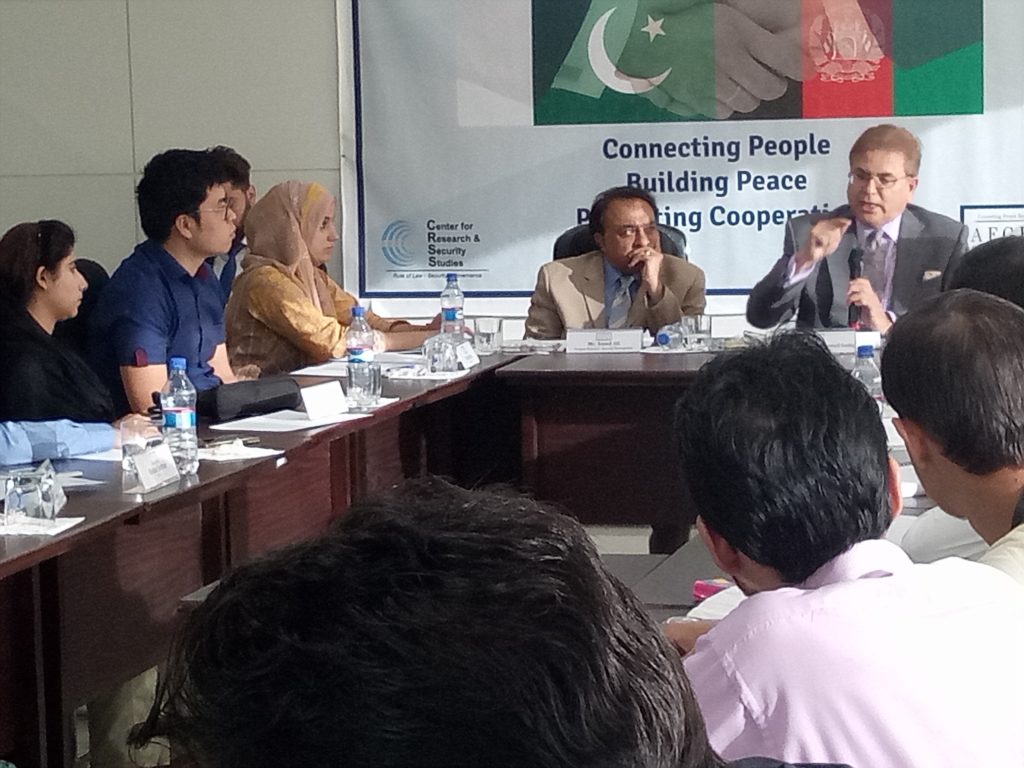 Ambassador Mohammad Sadiq also proposed the creation of an open trade corridor for Afghanistan, stating that trade and peace go hand in hand and that countries that trade don't fight. Pakistan is a low lying fruit for Afghanistan is terms of investment, whereas Afghanistan, too, is a potential market for Pakistani investment in the long run, he stated. He also added that Pakistan has proposed a free trade agreement with Afghanistan and it is now up to Afghanistan to agree to that. He further added that Pakistan, being a bordering neighbor with Afghanistan, has an edge over India where India cannot compete with Pakistan in terms of trade.
He said "a large number of Afghans learnt trading in Pakistan and became successful businessmen in Afghanistan when returned. In parallel to that, the Afghans who leant trading skills elsewhere in the world were not as successful when they wanted to establish businesses in Afghanistan. Why is that? This is because Afghanistan and Pakistan have the same business environment". He further stated, "I've been to all 34 provinces of Afghanistan and saw roots of Pakistan everywhere.  There is so much affinity. It is a pity that despite all the affinity, both sides have failed. If both sides leverage through soft power with each other, their relationship will even out with complete smoothness."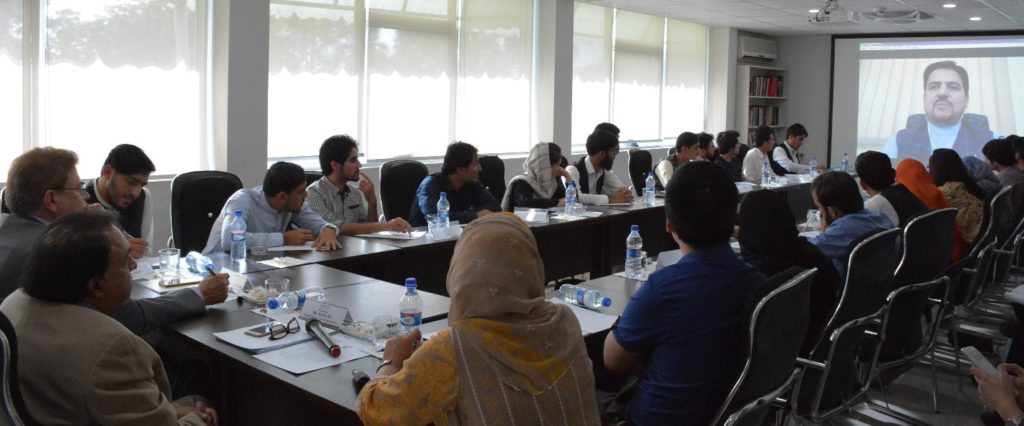 Mr. Mozammil Shinwari from Afghanistan shared his insights with the participants on Pak-Afghan trade dynamics and the need for cooperation in this sector, emphasizing that the potential is huge on both sides. He reminded the participants that the Ghulam Khan route considerably reduces the distance between Kabul and Peshawar and ought to be made operational now. He commended the continued efforts of CRSS and ASC on highlighting important issues in the bilateral relations. Ms. Faiza, from PAJCCI, apprised the participants on the meetings and roundtable conferences conducted by Pak-Afghan Joint Chambers of Commerce on improving the economic relations between Pakistan and Afghanistan. She highlighted that CPEC if extended to Afghanistan, would be a crucial development in Afghanistan's economic connectivity with the region. She emphasized on the need for Pak- Afghan joint ventures to build the ground for future trading.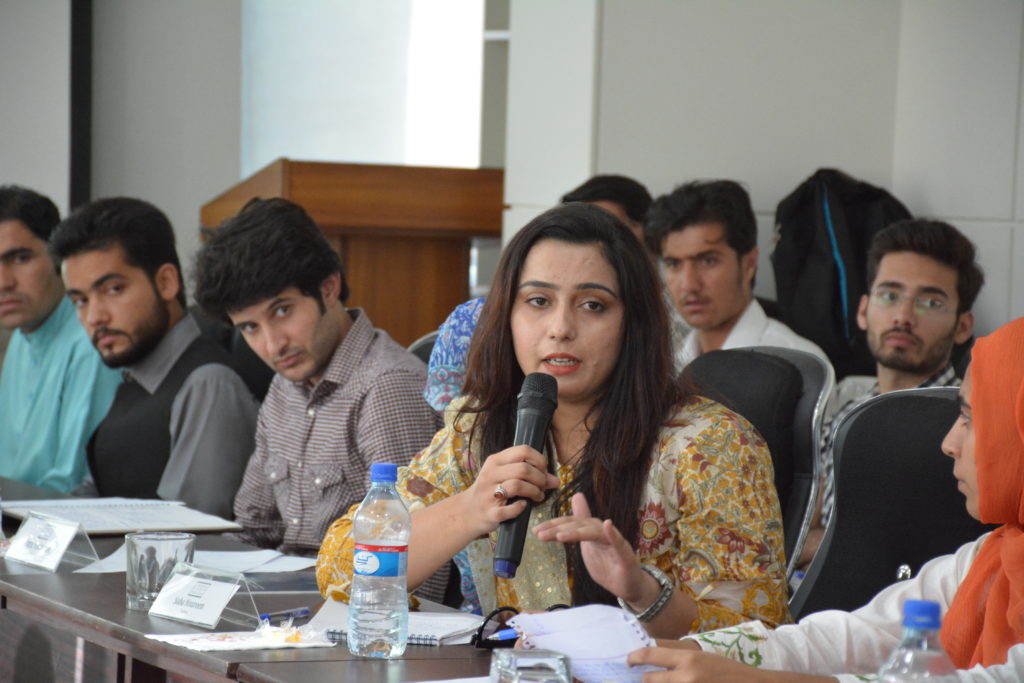 Participants of the dialogue posed questions to all three speakers and also shared their views, affirming that trade engagement between the two neighbors is a need of time and an important step towards peace. Some participants recommended that all trading routes between Afghanistan and Pakistan should be made operational while a mutual border patrolling force can be put in place.
A female Afghan participant, who was also awarded the shield for Pak-Afghan Youth Ambassador by CRSS at the conclusion of the dialogue, reminded the group that Afghanistan should not be a place for competition for any country, and we should all think about peace. At the end, she also added, "I don't feel any difference of identity when I am in Pakistan. It all feels strikingly similar."
Participants of the dialogue commended the efforts of CRSS and stated that such conferences and platforms would facilitate young Afghans and Pakistanis to create youth pressure groups to mobilize for positive relations between the two countries.
Mr. Aized Ali, CRSS Project Director Beyond Boundaries, also apprised the participants on CRSS' efforts in improving trade relations between the two countries as part of CRSS' Beyond Boundaries project. He said that improved bilateral and transit trade between the two countries would result in economic prosperity and economic development which can be an important key to regional peace and stability.
In his concluding remarks, Ambassador Mohammad Sadiq stated that essentially most of the problems between Pakistan and Afghanistan are superficial and do not have any history. If there is any, it has been made up, he said. "There was a time when 55000 people used to cross the border from Afghanistan to come to Pakistan every day. I would be so happy if half a million came every day now," he said, adding that this could create a new kind of economic dynamics which would address many of the grievances between the two neighbors. The dialogue ended with a group photo and the awarding of CRSS-ASC's Pak-Afghan Youth Ambassador shield to Sayeda Rahimi, the only female present from the Afghan side.