December 28, 2017
The Center for Research and Security Studies (CRSS) conducted its 7th Pak-Afghan Youth Dialogue on "Finding Common Grounds for Cooperation in Pakistan-Afghanistan Relations" on Wednesday, December 27, 2017. The dialogue series is aimed at providing a platform for the youth of both countries where they can have useful, interactive and dispassionate discussion, and debate on non-political bilateral issues, and network amongst themselves. Participants included young Afghans and Pakistanis from different provinces and regions, studying and working in Pakistan.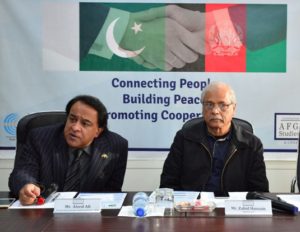 The session began with Mr. Aized Ali, CRSS Project Director Beyond Boundaries, welcoming the Chief Guest and all the participants. He apprised the objectives of CRSS Beyond Boundaries project, which began in 2015, and is aimed at facilitating Track II dialogues between core groups of experts and influentials of Pakistan and Afghanistan in a bid to improve bilateral ties. Mr. Aized stated that the Afghan Studies Center initiative was an off shoot of Beyond Boundaries which was launched in April 2017 and aimed at engaging the youth from both countries to play a constructive role in clearing the existing distrust and misperceptions; as the youth can become ambassadors of peace and future leaders.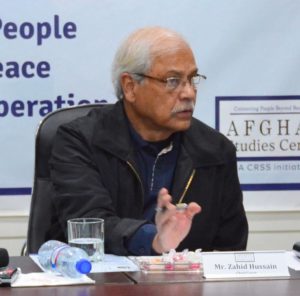 Mr. Zahid Hussain, senior award-winning journalist and author of two books; namely Frontline Pakistan – The Struggle with Militant Islam and The Scorpion's Tail: The Relentless Rise of Islamic Militants in Pakistan, was the Chief Guest and Speaker. Mr. Zahid, having decades-long experience covering Afghanistan and Pakistan for various international publications, shared his observation and opinion on the history and bilateral relations of Afghanistan and Pakistan. He told the participants that his first visit to Afghanistan was in 1990. The country has been in war for the last three to four decades. Referring to his recent visit with Beyond Boundaries delegation to Kabul, he said he is hopeful to see the development in education in particular, as a number of schools and universities are imparting education to youth. He was very happy to see a large number of female students at educational institutes, particularly at Kabul University; he noted this was a welcoming and refreshing change as compared to his visits to the same university during the Taliban regime when girls were barred.
Despite educational development, unfortunately, Afghanistan is still faced with a civil war perpetuating instability and the menace of terrorism, plaguing its chances of economic development. He stated that peace is most important for Afghanistan to further the progress in any sector, including trade, education and economy. Speaking on the theme of finding common grounds, he mentioned same kind of people live on both sides, in terms of ethnicity, language, shared ancestry, and religion. In contemporary times, no country can progress in isolation, specifically, Pakistan and Afghanistan have to move forward together; as peace in Afghanistan is directly linked to Pakistan's peace and vice-versa. He apprised the participants that since October 2017, real positive development in bilateral relations has taken place since Pakistan COAS Gen. Qamar Bajwa's visit to Kabul. At this point, Mr. Aized Ali informed the participants that in CRSS' delegation's recent meeting with Afghan CEO Dr. Abdullah Abdullah, the CEO also stated "After COAS Gen Bajwa's visit in October, we received excellent proposals from Pakistan and have mutually started a process of working groups including trade and economy. We look forward to working together with Pakistan and improving bilateral relations."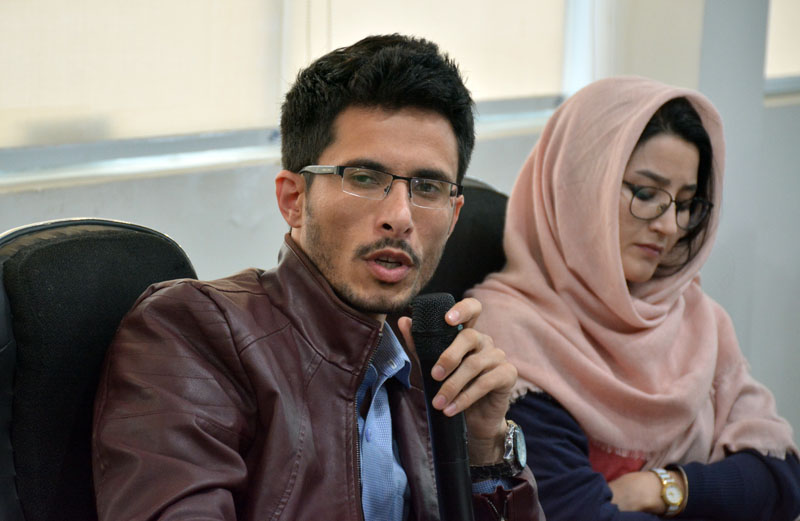 Opening the floor for an interactive discussion on the topic, he invited the participants to share their views and recommendations for finding common grounds. Hidayatullah Sherzad, from Afghanistan, began by appreciating the topic, stating that there are increasing areas of of cooperation that the two countries can explore, citing trade, education, sports and cultural programs. He compared South Asia withEurope and stated that despite the larger population of South Asia, the trade connectivity and tourism are low, while in Europe, despite low population, they have benefitted from economic connectivity and tourism industry. For Pakistan and Afghanistan, he said, bilateral and transit trade should be a priority and also should be delinked from politics and security. He added that, in addition to trade and economic connectivity, women, youth and media should be given opportunities for common grounds, which can ultimately lead to peace and prosperity.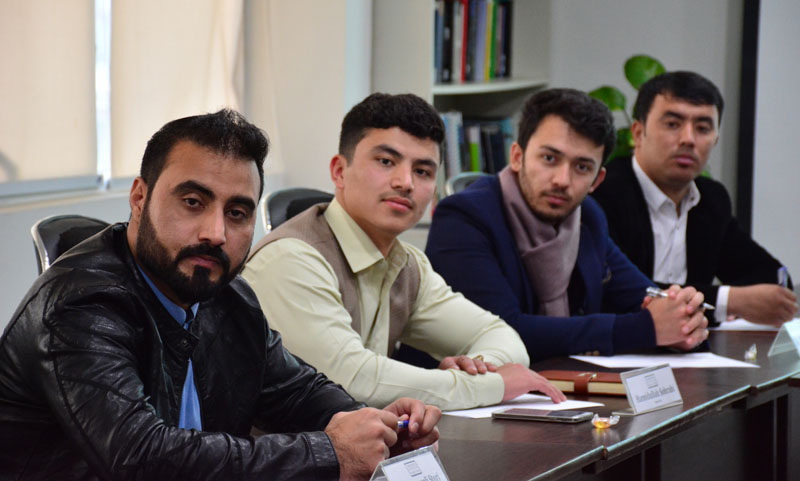 Shabab Hussain, from Pakistan, suggested that there should sports exchange activities for the youth which can act as a binding force to connect the two peoples. Other participants also suggested that cooperation in trade and commerce, media, sports, music, arts and culture, academics, civil society partnerships and youth exchange programs, can be common grounds to lobby for sustainable peace and stable bilateral relations.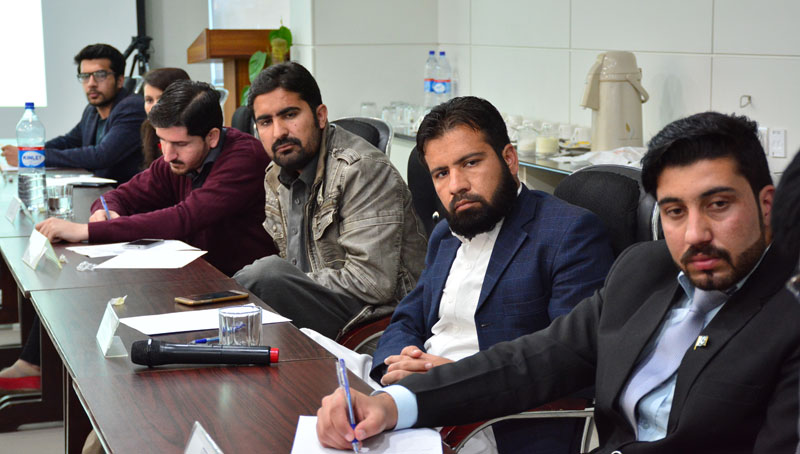 In his concluding remarks, Mr. Zahid Hussain appreciated the feedback from all participants, and reiterated that there is a huge potential in land connectivity as despite the dip in trade between the two, Pakistan still provides the best and favorable shortest trade route to Afghanistan. He specifically mentioned that he had recently visited Waziristan and was surprised to find out that Ghulam Ali crossing point can in fact become the shortest route from Karachi to Kabul, reducing the total distance by 400 km as compared to Torkham crossing point. On the other hand, Pakistan can reach out to Central Asian Republics through Afghanistan while CPEC can also be extended to Afghanistan; hence making trade for both countries a win-win situation and ensuring regional stability and peace in the process. He further noted that globally, too, now there is a shift from geo-politics to geo-economics.
He further emphasized on the role of media in both countries to play a positive role by creating common partnerships to improve perceptions and trust and to enhance people-to-people contact. He ended by saying that the youth, hence, has greater role in reducing the existing tensions and creating a better environment.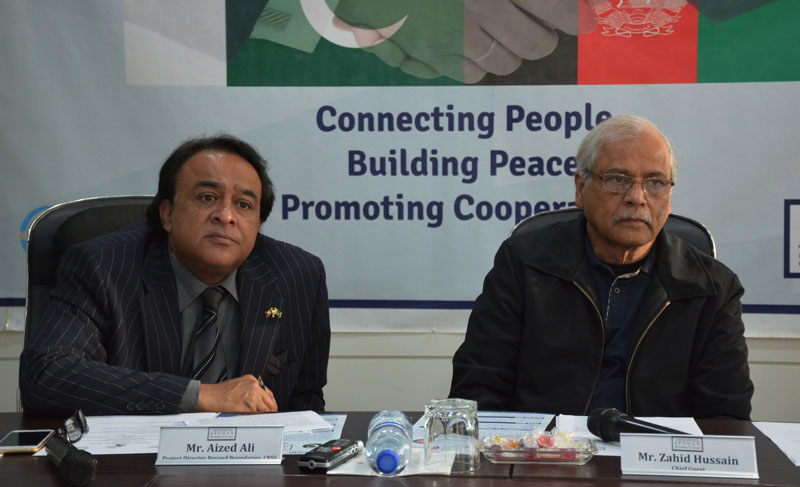 Ending the session Mr. Aized Ali thanked Mr. Zahid Hussain and the participants and apprised them that all the suggestions discussed today by the youth in fact are included in the joint declarations of policy recommendations from Beyond Boundaries 13 Dialogues and have been shared with both the governments at the highest levels.
As has been CRSS' tradition, at the end Mr. Aized Ali nominated Hidayatullah Sherzad, a participant from Afghanistan, as CRSS-ASC's seventh Pak-Afghan Youth Ambassador who was awarded a shield as a token by Mr. Zahid Hussain. Previously, Ejazulhaq Ateed from Afghanistan was nominated as Youth Ambassador. The session ended with group photo and refreshments.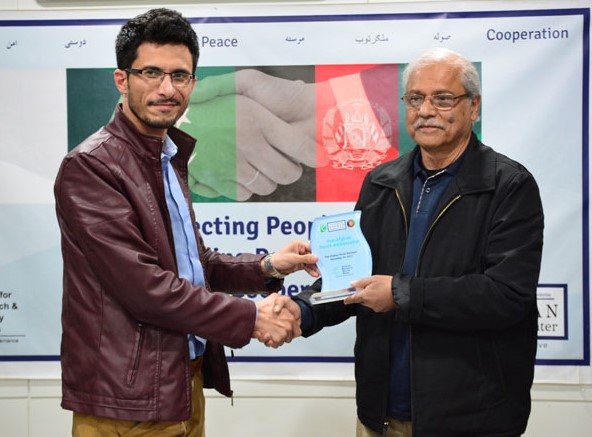 © Copyright Center for Research and Security Studies (CRSS) and Afghan Studies Center (ASC), Islamabad.