Speaking at the 8th Pak-Afghan Youth Dialogue on poverty as the common enemy for Pakistan and Afghanistan, Dr. Vaqar Ahmed, Deputy Executive Director, SDPI, stated one of the most articulated mantras of poverty reduction in developing countries is adopting trade liberalization strategies which can pave the way for business, employment, and ultimately improve livelihoods for people, particularly those living in rural areas.
In place of merely pursuing economic growth, reduction of poverty as a primary goal of development efforts has been adopted in the Millennium Development Goals (MDGs) and, also the recent Sustainable Development Goals (SDGs). Countries like Pakistan and Afghanistan, in particular, need to ponder over such strategies.
Dr. Vaqar Ahmed, who was invited as the Chief Guest and Speaker in the session organized by the Center for Research and Security Studies (CRSS), said that both countries can tackle the common enemy of poverty, through improved bilateral and transit trade, business, and foreign investment. While speaking on Pak-Afghan trade, he shared SDPI's recent Pak-Afghan trade project's findings. According to the report, he said, the downward trend in the trade between the two countries can be attributed to heightened security protocols on the Pakistani side, improved manufacturing facilities in Afghanistan, the rise in Afghanistan's trade with Iran and other regional economies, and the increase in informal trade, which resultantly has brought Pakistani exports to Afghanistan to about $1 billion at present from $ 2.5 billion in 2016.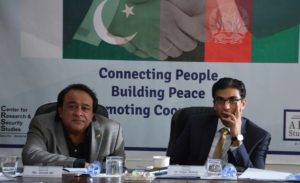 He further said that in March 2017, the most popular commodities that found their way to Afghanistan from Pakistan included rice, wheat flour, cane and beet sugar, sucrose, sugar confectionery, household articles, and plastics. Among the export of services, Pakistan provided business and government-related services, telecommunications, information technology and transport, and health services. During the same month, Pakistan's major imports from Afghanistan were coal and cotton, he added. These industries generate ample employment opportunities and lubricate the cycles of many related industries like transportation, store houses, lubricants, tyres, food processing units and many more. Thus, pulling a big chunk of population out of vulnerability in both countries.
For this report, Dr. Vaqar stated SDPI met with 300 business persons in Pakistan, and 150 in Afghanistan. Talking about the views on hurdles faced by business community on both sides of the border, Dr. Vaqar apprised the participants that both business communities identified the security of merchandise on border as a major concern. Despite several arrangements by both governments, the issues of pilferage and damage to export and import consignments still remains; something which needs to be resolved. They also called for modernizing the visa system and related facilities for businessmen and traders while crossing border.
Secondly, inadequate banking facilities and lack of formal money exchange companies on both sides of the border, further hamper the potential of Pak-Afghan trade, and, in the process, encourage informal "hawala" system.  Weak infrastructure connectivity which includes poor roads and no rail network are also other factors that hinder the trade; however, under construction Peshawar-Kabul dual carriage way, once operational, will positively impact in increasing the bilateral trade.  Dr. Vaqar further pointed out that while there are 11 notified trade routes between the two countries, so far, trade is allowed only through two routes, namely Torkham and Chamman, and a third one at Ghulam Khan is under construction. He urged both the governments to open more trade routes which are not utilized.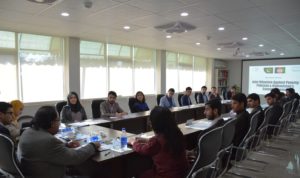 Thirdly, border-related trade infrastructure is also missing. For example, there exists automatic software to clear the goods and merchandise on Pakistan side as well as on Afghan side, but still the reliance continues on manual processes on both sides due to which there are delays in consignments increasing the transaction costs.
Dr. Vaqar said that the chambers of commerce on both sides need to invest resources to showcase these hurdles in print, electronic and social media, and highlight the loss to producers, traders and consumers as a result of the lack of bilateral trade cooperation. Moreover, he suggested that Pakistan's Federal Board of Revenue (FBR) and its counterpart in Kabul need to engage robustly and revisit the existing structure of tariff and para-tariffs imposed on the incoming goods from both sides. Besides, a detailed orientation may be organized for economic journalists in Kabul and Islamabad, so that repeated messaging is ensured through various forms. Development partners will also need to invest resources in helping trade advocacy efforts on both sides.
According to the business community on both sides, investment is based on government to government arrangement. Private sector wants the investment regime to be liberalized. Foreign currency exchange facilities routes should be facilitated like opening more Pakistani banks' branches in Afghanistan. He further told that both countries have been deliberating on signing the Preferential Trade Agreement (PTA); the SDPI study believes that Afghanistan has a lot to gain from such an agreement. Such measures will help eradicate the challenge of poverty by improving livelihoods and businesses, he stated.

Mr. Aized Ali, Project Director CRSS, in his concluding remarks, told the participants about the CRSS Pak-Afghan tarck II initiative Beyond Boundaries, which previously in March 2017, convened meeting of Pakistan and Afghan businessmen representing various Chambers. The meeting reiterated that trade should be de-linked from politics and security. He further told the participants that the recent trilateral Pakistan-Afghanistan-China talks have also been very encouraging for improvement in bilateral relations. The December 26, 2017, meeting of the three foreign minsters in Beijing, and the previous two meetings at deputy foreign minister levels, and the Director General Military Operations' in Pakistan are aimed at breaking the political deadlock while also forming five working groups to work on important impediments in relations including trade and economics. Dr. Vaqar and Mr. Aized both hoped that these recent positive developments will pave way for improving the bilateral and transit trade volume ultimately helping address the unemployment and poverty issues.
The dialogue was attended by 17 afghan and Pakistani students from various universities of Islamabad, representing different regions of the two countries.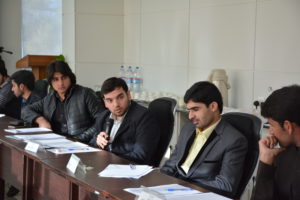 The youth participants came up with several recommendations for enhancing Pak-Afghan trade relations which included improving facilities such as transportation and civil aviation, linking Kabul to CPEC, implementing the decisions taken by Joint Economic Commission, automating trade, expanding banking channels, revisiting trade arrangements, improving political relations which overshadow economic activities, and strengthening linkages between think-tanks and civil society organizations of both sides.
At the end of the session, Mr. Aized Ali nominated Osama Bin Haroon from Pakistan as the Pak-Afghan Youth Ambassador for the January 2018, who was awarded a shield by Dr. Vaqar. The dialogue ended with a group photo.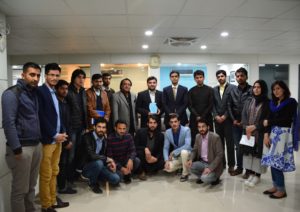 The session was the eighth in CRSS' Afghan Studies Center's ongoing series of monthly dialogues aimed at promoting academic, cultural and sports exchanges between the youth of Pakistan and Afghanistan, and creating young leaders who can become advocates of peace in the region.
View pictures here.
© Center for Research and Security Studies (CRSS) and Afghan Studies Center (ASC), Islamabad.