Beyond Boundaries – a Pakistan and Afghanistan Track 1.5/2 Initiative undertaken by the Center for Research & Security Studies (CRSS), Islamabad
The Center for Research and Security Studies (CRSS), in partnership with its Afghan counterpart organizations DURAN Research and Analysis (DRA) and Women & Peace Studies Organization (WPSO), undertook a unique series of twelve meetings between December 2015 and March 2017 bringing together over 100 Afghan and Pakistani security and civil society experts to discuss bilateral acrimony, address grievances and help deescalate tensions. Beyond Boundaries has been a conscious effort to bridge the gulf of mistrust between the two neighbors and encourage networking among group members to help improve local perceptions for the other side.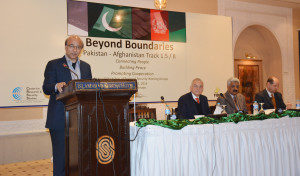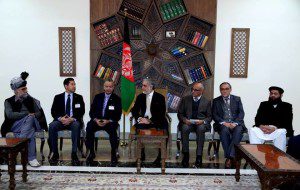 Beyond Boundaries Phase I
Beyond Boundaries Phase I, which spanned from October 2015 until March 2016, comprised of two working groups; the Regional Security Group and the Civil Society Group with members from both countries. It comprised an unparalleled series of seven meetings – three each for the two groups alternately in Islamabad and Kabul – and the last one in Islamabad as the culmination of this unprecedented initiative. Both governments were also on board for this crucial endeavor that got underway at a very critical time for the bilateral relations.
Through these consultative workshops, the working groups on regional security and civil society addressed varied themes that are important for promoting peace, enhancing people to people contacts and increasing cultural exchanges between Pakistan and Afghanistan. The key objective of the initiative has been to expand the "peace constituency" through regular contacts among members of parliaments, ex-government/security officials, civil society, media, and cultural entities. Hence, Beyond Boundaries Phase I was also an attempt to reach out to maximum number of influential stakeholders in both countries to discuss and highlight themes that are central to the bilateral relationship. Other objectives included networking of influential people from both sides for peace-building, encouraging dialogues at various levels through official and unofficial communication channels, and disseminating results from the dialogue i.e. strategic communication through public fora and various forms of media.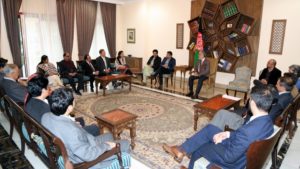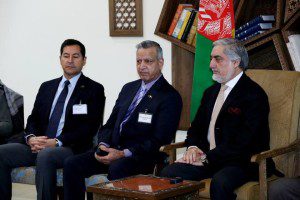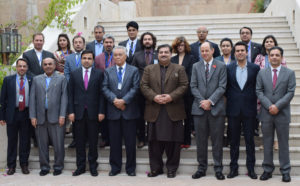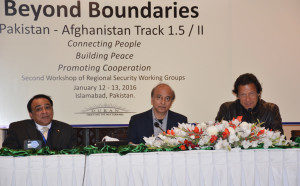 Beyond Boundaries Phase II
Beyond Boundaries Phase II built on the successful outcome of its prequel "Beyond Boundaries" which did a good job of initial ice-breaking, scene setting and laid foundation for more result-oriented conversations and structured dialogue to generate more actionable policy recommendations around identified issues such as border management, security, easement of formal trade, education, health, refugees, and media-intellectual exchanges. It spanned from October 2016 to March 2017.
Beyond Boundaries brings together influential government and non-governmental stake-holders who can help lessen tensions, address misconceptions, revive bilateral confidence building measures, and eventually nudge both governments and key stakeholders away from the confrontational towards a collaborative engagement in favour of regional peace, trade and development.
The Beyond Boundaries phase II formulated a Pak- Afghan Joint Committee (PAJC) as a bilateral Track II mechanism to try and help overcome the deep rooted acrimony and suspicion through a focused and meaningful series of dialogue. The PAJC comprises five to seven members each from Pakistan and Afghanistan including security experts, parliamentarians, civil society, and business/media representatives. The CRSS in partnership with its counterpart in Kabul, Women & Peace Studies Organization (WPSO), have reached out to high level experts and have constituted the Pakistan Afghanistan Joint Committee. CRSS and WPSO will work closely with and seek guidance of the respective diplomatic missions in Kabul and Islamabad (Pakistani and Afghan) during the project period.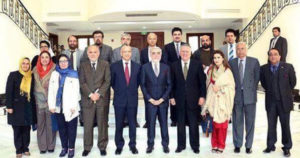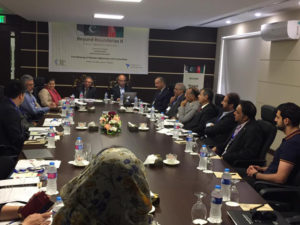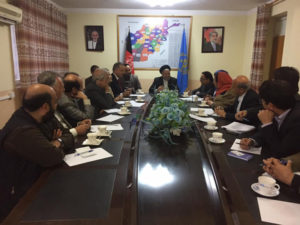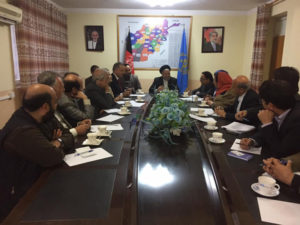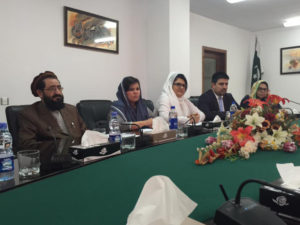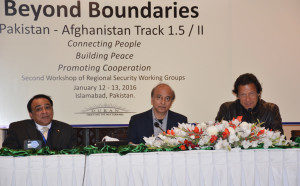 The PAJC aimed to develop understanding on the identified bilateral issues mentioned above to help detox narratives, improve public perceptions, and mitigate mutual allegations and suspicions. The core group members will keep alternating for the captive interactions, strategic meetings on the sidelines, public seminars at universities and media appearances during the total of six workshops/ visits of joint committee through the project life cycle August, 2016 to March, 2017; one each at Islamabad, Karachi and Lahore in Pakistan and Kabul, Mazaar-i-Sharif and Herat in Afghanistan.
As strategic oversight, the PAJC groups have been lobbying with their respective governments on the progress of the previous and newly generated recommendations of Beyond Boundaries. The joint committee will act as bridge between two governments, to ensure continuation of bilateral conversation and promote and foster better people-to-people contacts between the two countries.
Apart from their dialogue and strategic sideline meetings, members of the Pakistan Afghanistan Joint Committee were also invited in talk shows in both countries to spread awareness on the issues of bilateral acrimony and how to resolve them. Members also reached out to the youth of both countries by visiting two universities in each visit. To read about the University visits organized by CRSS, click here.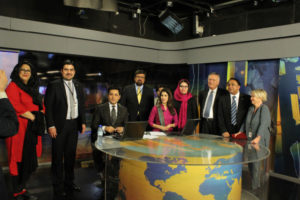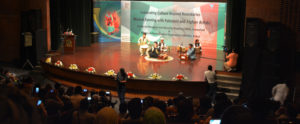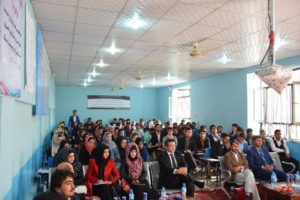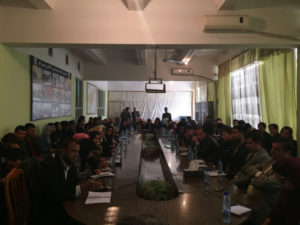 Beyond Boundaries – III
A consortium of SaferWorld, CRSS, and Afghan partners Organization for Economic Studies and Peace (OESP), has started the third phase of the track 1.5/II project Beyond Boundaries from October, 2017, which will run through March, 2020. CRSS and OESP will oversee the development of activities between Pakistan and Afghanistan, building on the successes and lessons learnt from CRSS's major Pakistan-Afghanistan track 1.5/II – Beyond Boundaries I & II – with the objective to improve and sustain political relationship between Afghanistan and Pakistan. The project spanned over two phases from October, 2015 to March, 2017. It involved enhanced dialogue of the committed group of Pak-Afghan influencers including parliamentarians, security experts, retired civil and military bureaucrats, civil society and media leaders  – on key bilateral issues – for policy recommendations and engagement with the governments of Afghanistan and Pakistan, key stakeholders and public diplomacy to contribute to changes of government policy and public perceptions that improve the relationship.
CRSS, alongside OESP, will lead on coordinating meetings and conferences between key political influencers in Pakistan and Afghanistan. The project will continue to have the established mechanism of Pakistan-Afghanistan Joint Committee (PAJC) made up of a pool of security experts, parliamentarians, civil society and business/media representatives from both Pakistan and Afghanistan, who have the ability to engage with and influence Government stakeholders.  Over the period of this project, meetings and workshops will be held with the PAJC in federal capitals and major cities in Pakistan and Afghanistan to discuss contentious issues and themes including political security, bilateral and regional economic cooperation, refugees, education, natural resource management, trade, sports and the arts. The PAJC meetings will be convened quarterly throughout the project, starting with the first meeting held in Kabul from 14-17 December, 2017.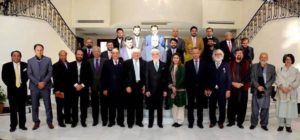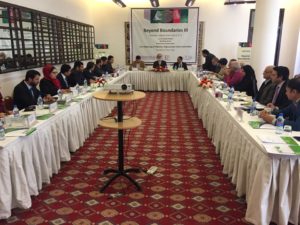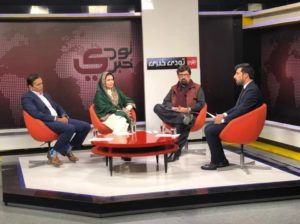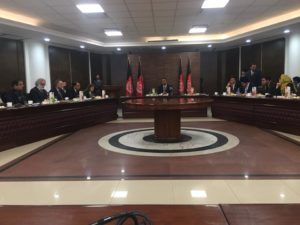 The phase III of the project will deliver a quantifiable increase through PAJC dialogues/meetings, high level sideline meetings with both governments, strategic communication strategy of media dissemination through TV shows, press coverage and op-eds, and university visits in major cities of both countries, for engagement with youth and academia. The primary objective of the project remains "improvement in Pakistan-Afghanistan bilateral relations". Through the multi-pronged approach of the Beyond Boundaries phase III activities it is aimed to lobby and act as a pressure group of influencers by sharing the policy recommendations/proposals with leaders of both governments for impressing upon the increase in amount of official bilateral government meetings leading to progress in mutually agreed contentious areas of disagreement between Afghanistan and Pakistan, by adopting an overall approach which seeks to support existing Track I & II dialogue while widening the actor groups involved in bilateral debates on those issues.
To watch all the Pak-Afghan TV dialogues, click here. 
To read about the cultural night, click here.
For more details, visit our parent website: www.crss.pk/beyond-boundaries/